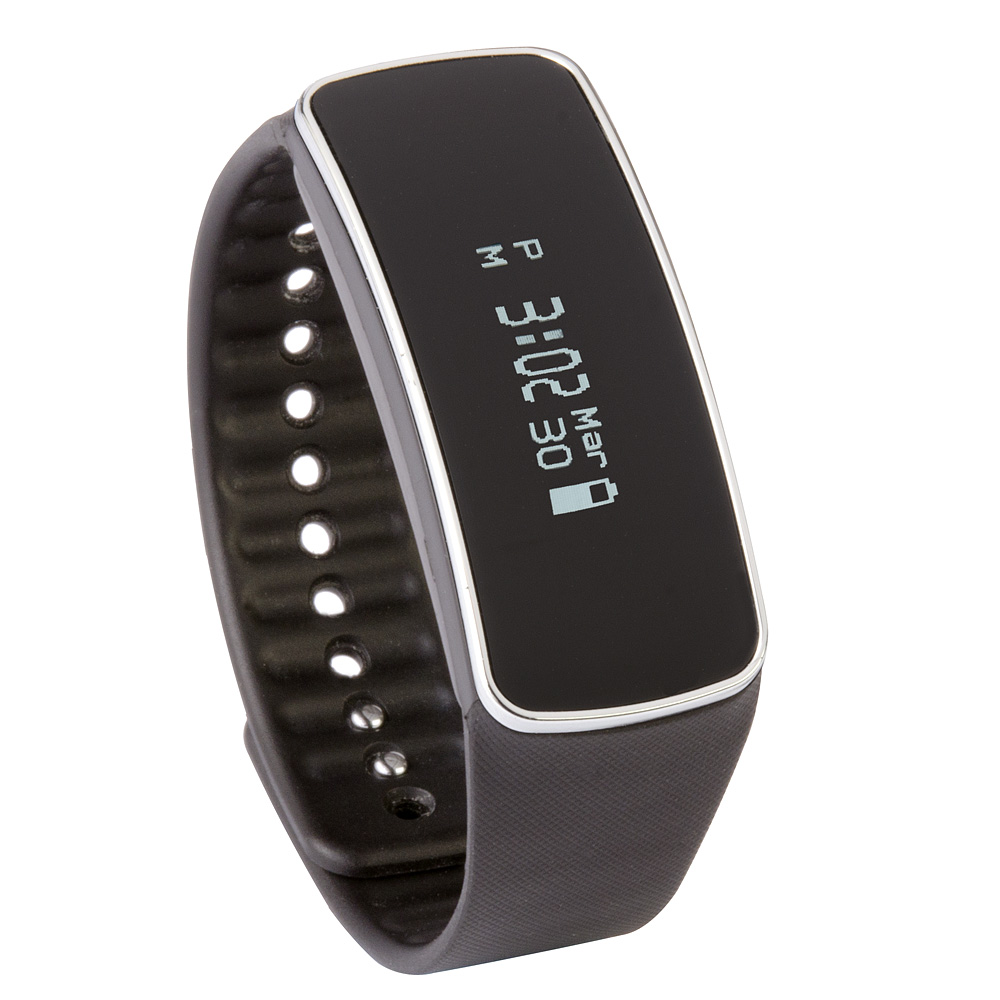 ONYXB2BK
ONYX B2 Fitness Wristband - Black
ZFIT Fitness band with 0.91" OLED screen displaying 7 functions and mobile APP
ONYX B2 Fitness Wristband - Black
The ZFIT wristband unit (0.91" OLED screen) is black with a white and black band.
It is waterproof with IPX7 capabilities (shower & swim with band).
The following features are on the screen by double tapping for advancing:
Time , Date & Battery power status
Number of Steps
Distance
Calories
Time for distance
Goal percentage
Alarm clock
The ONYX B2 sync wirelessly with the ZFIT App by Bluetooth to update information to the Cloud server. The data is kept for 7 days on the band and up to one year on the server. Users can enter their food with images and restaurants to calculate the calories consumed or burned.
System Requirements:
Android 4.3 and above
iOS 7.1 and above
Compatible with the following phones:
IPhone 4S, IPhone 5, IPhone 5C, IPhone 5S, IPhone 6, IPhone 6 Plus
Ipad Mini, Ipad Mini 2, Ipad Mini 3, Ipad Air, Ipad Air 2
Samsung S3, S4, S5, Note 2, Note 3, Note 4
HTC Nexus 5, Nexus 7, Sony Xperia Z1
Package includes:
B2 Fitness Unit
2 Wristband (Black & White)
Charging Dock
Micro USB Charging Cable
User Manual
Activities
Steps, Distance, Calories burned, Active time
Sleep
Tracks shallow & deep sleep
Food
Add Calories, Description, Restaurant & Image
Alarms
Set multiple alarms
SMS Notifications
Yes, 2 lines of information
Caller ID
Yes, Name & Number
Sedentary Notifications
Yes, Set intervals
Social Network Notifications
Yes, WhatsApp, QQ, WeChat, Skype, (2 lines message)
Daily Goals
Display percentages (%)
Touchscreen
Yes (Advancing menu)
Vibration Notifications
Yes
Syncing
Wireless (Bluetooth)